Telenco UK Becomes Distributor of VIAVI Solutions Products
Telenco UK has now become an official distributor of VIAVI Solutions products, VIAVI Solutions specialises in fibre test equipment, suitable for use in FTTx and Enterprise applications. Manufactured to t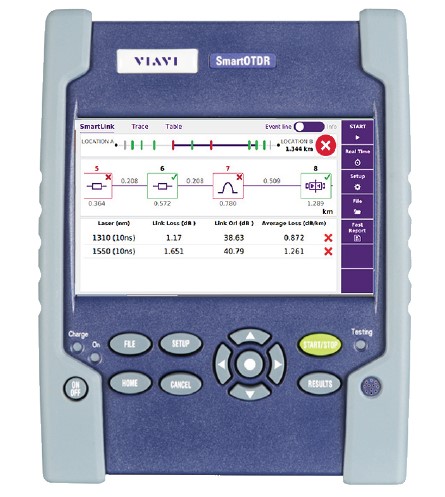 he highest quality and incorporating features that make testing quicker, easier, and more efficient. Being able to supply our customers with VIAVI Solutions products makes our product range of testers even larger, allowing customers to have the best buying experience, and finding their desired tester easier.
The VIAVI Solution range available at Telenco UK includes SmartOTDRs, SmartPocket V2 TruePON testers, Onex-580 copper tester family, NCS-100/200 and Smart class 5800 digital tester family.
The most expansive product from the VIAVI Solutions range available at Telenco UK is the SmartOTDRs, this being a range of compact, rugged, lightweight Smart OTDRs pre-configured with options to suit different test requirements in a single, handheld device. Simplified trace analysis with Smart Link Mapper (SLM) and automated testing with objective pass/fail results. The SmartOTDRs have various modules, four being six being sold on the Telenco UK website, to make a more precise custom order contact sales@telenco.com.
The second product range available is SmartPocket V2 TruePON testers, these are Easy-to-use for technicians at any skill level, the SmartPocket V2 TruePON testers offer a dedicated and cost-optimized solution for testing, installing, and troubleshooting PON services in the field. The most compact dual-band TruePON testers in the market that fits perfectly in your pocket.
The third product range available is the ONX-580 Family, which helps field technicians fix problems—for the first time. The multi-touch, user-friendly interface and OneCheck automated tests ease complex tasks with clear pass/fail results. Its future-proof modules ensure years of use supporting access and home networks. The modular platform scales to fit both outside plant and in-home use cases at the right price point with three models: the service-focused ONX-580A, the standard ONX-580 with copper and service testing, and the new ONX-580P for advanced copper and service test. All models can support FTTH and WiFi testing.
Another product range available at Telenco UK is the SmartClass 4800 allows technicians to test all common business class interfaces. Technicians can test the quality of voice services regardless of whether they are delivered via VoIP or PRI. The industry's smallest handheld instrument can test throughout the service life cycle, including service activation, troubleshooting, and maintenance.
Telenco UK will also provide a large range of accessories that can be added to VIAVI Solutions products, including the p5000i Fibre Microscope.